Chilli Sauce Trio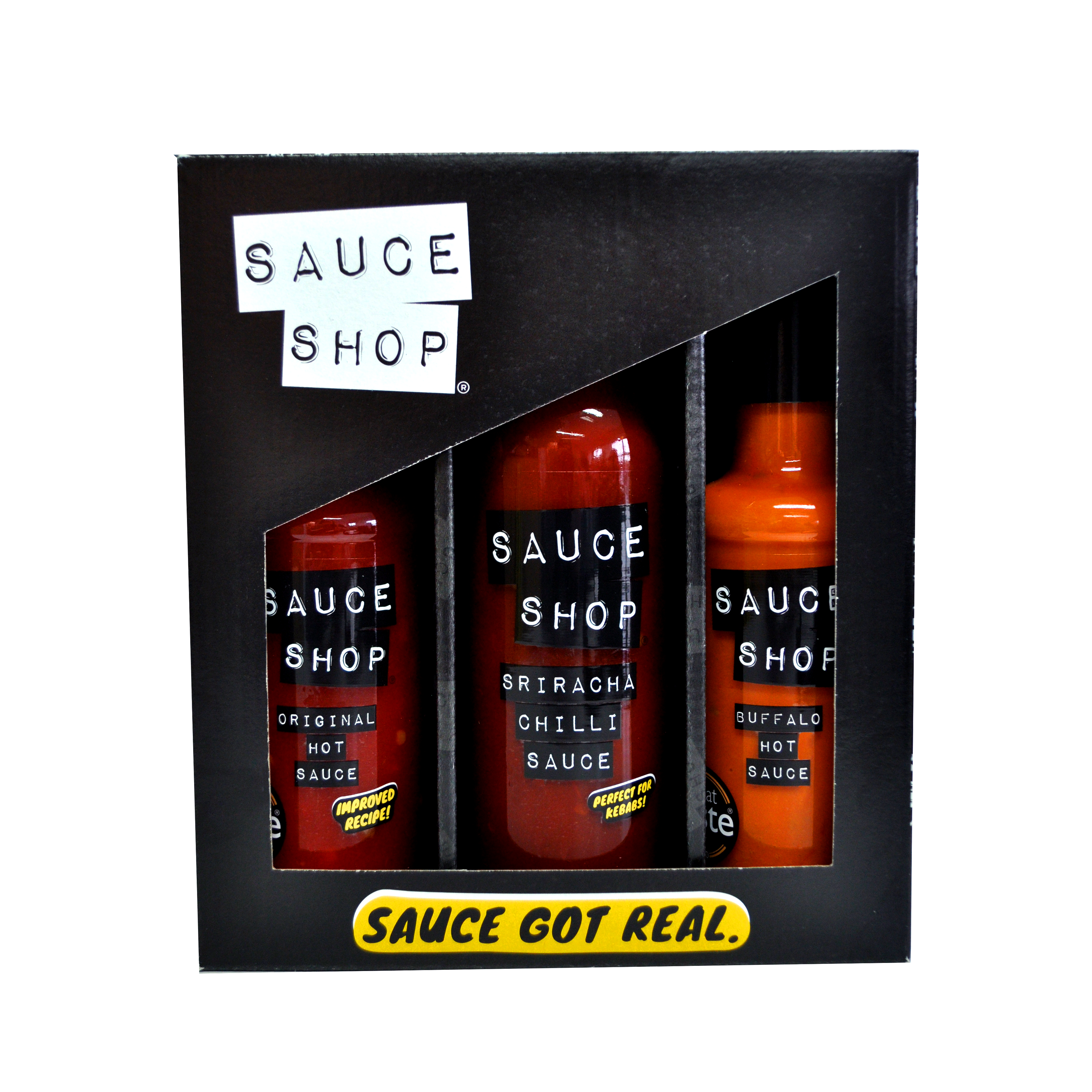 Chilli Sauce Trio
Three of our go-to chilli sauces, packed into a Sauce Shop gift box.
The set contains: Sriracha Chilli Sauce, Buffalo Hot Sauce and Original Hot Sauce
2 Great Taste Award winning sauces
Whole set suitable for vegetarians and gluten-free
Nothing artificial, just full-on flavour
Sriracha Chilli Sauce 260g (Vegan/Gluten-Free): The chilli sauce we can't live without – goes on everything. Sriracha meets kebab shop chilli sauce. We've combined our signature aged chillies with a load of garlic and added tomatoes for a super savoury note that keeps you coming back for more!
Buffalo Hot Sauce 150ml (Vegetarian/Gluten-Free): A sharp and rich hot sauce made with a blend of aged Jalapeno and Habanero peppers, real butter and lots of vinegar. The chillies used in the sauce were carefully aged for a minimum of 2-months which explains the complex flavours you'll taste.
Original Hot Sauce 160ml (Vegan/Gluten-Free): Your one-stop flavour drop. Fruity and hot. No messing around. You know that go-to hot sauce you're always reaching for? That's what this is. It's hot, but not too hot, garlicky but not too garlicky and the perfect consistency for pouring over just about anything. Enjoy.
STORAGE
Store in a cool dry place, once opened keep refrigerated and use within 12 weeks. Shake well before use.
SRIRACHA CHILLI SAUCE
INGREDIENTS: Red Jalapeno (36%), Tomato Paste, Sugar, Garlic, White Grape Vinegar, Salt.
NUTRITION PER 100G: Energy 108kcal / 452kJ, Fat 0.3g (of which saturates 0.1g), Carbohydrate 22.7g (of which sugars 20.2g), Protein 3.2g, Salt 2.20g.
BUFFALOH HOT SAUCE
INGREDIENTS: White Grape Vinegar, Aged Red Jalapeno (29%), Garlic, Unsalted Butter (milk), Tamari (water, soybeans, salt, spirit vinegar), Aged Habanero, Sea Salt (see allergens in bold).
NUTRITION PER 100G: Energy 77kcal / 322kJ, Fat 4.4g (of which saturates 2.5g), Carbohydrate 6.5g (of which sugars 1.7g), Protein 1.8g, Salt 2.57g.
ORIGINAL HOT SAUCE
INGREDIENTS: Aged Red Jalapeno (61%), White Grape Vinegar, Garlic, Salt.
NUTRITION PER 100G: Energy 36kcal / 151kJ, Fat 0.3g (of which saturates 0.0g), Carbohydrates 7.0g (of which sugars 3.2g), Protein 1.4g, Salt 4.77g